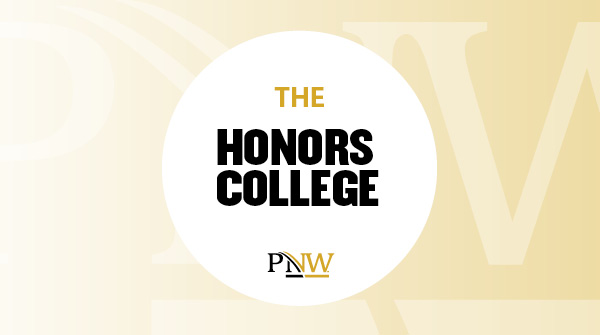 ---
Jonathan Swarts, Dean of the Honors College

and Undergraduate Studies

Deborah Bachmann, Administrator of Honors Student Leadership and Programming

 
---
Hammond Campus: SULB 320
Westville Campus: LSF 028
Phone: 219-989-3160
Mission
The Honors College at Purdue University Northwest is dedicated to enhancing the learning experiences of highly motivated and academically exceptional students. Students in the Honors College engage in advanced coursework, community outreach, substantive research, study abroad, cultural and social activities, and regular interaction with the university's most outstanding students and professors. Through such special learning opportunities, the Honors College fosters academic excellence, critical thinking, leadership skills, social and civic responsibility, and other virtues required of outstanding citizens and leaders.
Application
Admission to the Honors College is based on the following minimum criteria:
Freshmen: High School GPA of 3.20 or above
Incoming Transfer Students: minimum GPA of 3.20 or above from their most recent college or university
Current PNW Students: GPA of 3.20 or above at PNW and freshman/sophomore standing (less than 60 credit hours).
Students not meeting these criteria may still be eligible to join, contact the Honors College for more information.
Benefits
Honors College students have the opportunity to:
Develop leadership skills inside and outside the classroom;
Make an impact by engaging the local community in service;
Take specialized, Honors-only, interdisciplinary classes;
Conduct research with outstanding faculty;
Be part of a caring community of high-achieving students, faculty, and staff.
Students who successfully complete the Honors College curriculum earn a gold seal on their diploma and a notation on their official transcript.
Curriculum
Honors Cohort Classes (9 credit hours)
Semester 1
Semester 2
Semester 3
Honors Electives (15 credit hours)
Choose 15 credit hours from the following:
Special Topics Courses
Honors Contract Courses (non-Honors courses in which a student completes a supplemental research project, internship, or study abroad program)
Experiential Learning Courses